Myrtle Beach's Crown Reef Resort opens $2 million oceanfront waterpark
15 july 2014
Travelers now have a brand new way to get wet and wild in Myrtle Beach's Grand Strand, just named the top summer U.S. travel destination by TripAdvisor.com, with the opening of a brand new $2 million waterpark at the oceanfront Crown Reef Resort. In addition to two new 4-story enclosed waterslides, including the world's first hotel "EXPLOSION" slide, the waterpark features a kids' waterslide, sub play area with water sprays and bucket dumps, and a sun deck.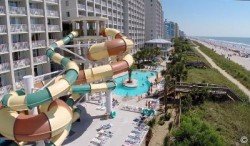 The 20-year-old resort, which has been undergoing a major $7.5 million renovation since last fall, making it one of the area's largest resort renovations in the last five years, completes the property transformation with the opening of the waterpark.
The two enclosed water slides launch from an imposing four stories high. The two-person "EXPLOSION" tube slide pumps more than 2,500 gallons of water per minute.
"The 'EXPLOSION' is a two-person serpentine-style ride with many left-to-right turns in 54-inch enclosed flumes," said Nik Paas of ProSlide Technology Inc. "There are tight radius, 360-degree turns where the fiberglass enlarges and explodes into a 72-inch diameter to provide a change of speed and direction and add an all-new experience to the ride."
The second "TWISTER" slide, a one-person body slide, pumps 800 gallons of water per minute, while the "KIDZ Twister" slide sits 8 feet tall and 20 feet long. The slides and other new water features will be enclosed during cooler months and are open aired during the summer months.
Source: breakingtravelnews.com